Genealogy is an ongoing process.  It seems like when you find one answer, it gives you two more questions.   This research page will give you the progress on several different research topics.   Help is always needed and fun I might add.  Many of you have children and grandchildren that are studying their family origins in school.  Many of you do genealogy as a hobby.  If genealogy is your hobby or your school project, this page will help you dig into areas that we don't have answers for.  Researching your family genealogy is fun, challenging and interesting and always a great family activity for all.  Email me if you would like to add a topic.  Enjoy digging into the past.

NEW
Topic: 2nd Lieutenant Patrick Nolan, Co-Pilot B-17 World War II


Everyone of my relatives on my side of the Nolan family have learned from our Fathers and Mothers about Patrick Nolan and his death in WWII on December 30th, 1944 during a mission to Germany.  Patrick Nolan was the brother of my Father John Nolan and is listed on the Matthew Nolan family tree.  My father has had this photo of the Patrick Nolan's B17 crew always displayed in our home.  I'm sure many of you remember seeing this photo displayed in your homes as well. 

Last week (4/7/10) I was looking at all the information I have collected and researched on Patrick Nolan and his B17 crew.  Most of the information I have gathered was from my Father and from the museum of the 390th bomb group located at the Pima Air Museum in Tucson.  As you can see on the photo with signatures of the crew from "Tis A Mystery".   As I looked at each crew member I match their name with what duties they performed on the aircraft.   When I looked at the man standing second from left, R. H Buhrmaster, I could not find him on list of personnel that was killed on that mission on Dec. 30th, 1944.  In researching his name on the data base at (the39th.org) 390th website I found that he flew 8 missions with "Tis A Mystery" and was transferred to another crew a couple missions (two weeks) prior to the crash of "Tis A Mystery".   Continuing the research I found that Robert H Buhrmaster survived the war after completing his missions.  The photo that so many of us looked at over the years and our parents displayed in their homes to honor their brother had a surviving member from that crew.  How can that be that we have never heard of this before.  I thought WOW, I can't imagine the stories, the experiences he had flying missions and living day to day in England with my Uncle Pat Nolan.  How did not anyone know about Robert Buhrmaster?  I had to know if Robert H. Buhrmaster was still alive.  After several days of searching the internet and several calls around the nation I found Martha Buhrmaster, wife of Robert.  We had a great conversation about her husband Robert.  Robert H. Buhrmaster died in 2000.  Martha said he would talk about the crew and how he fought hard to stay on the "Tis A Mystery"crew, but as a navigator he was needed on another crew.  She said he talked about his crew from "Tis A Mystery" and was deeply sadden by their loss.  Martha gave me the names of her two children and I spoke with both this week,  Dan Buhrmaster lives in Scottsdale Arizona only about 5 miles from my home in Tempe.  WOW again!  We are planning to get together and share letters, pictures and other information.  I only wish my Father, his brothers and sisters would have met and shared together with each other.


Topic:Nowlan/Nolan Hometown in Ireland
This subject is most likely the number one question.  Where in Ireland did we come from?   The only solid clue is Patrick Nolan's gravestone "Watford Ireland".   There is a Waterford and Wexford, Ireland.  Both are in the southern part of the country.  Was the "t" an "x" in the inscription.  I have personally never seen his gravestone.  Researching in Ireland is very difficult.  Churches hold many of the records.  A record I found that closely matches Patrick's birth date was recorded in a town of Adamstown in County Wexford.  One interesting bit... The Catholic Church in Adamstown is St. Abban's.  The Priest is Father Robert Nolan!

Topic:James Nolan Farm in Millville.
Looking into the relationship between Patrick and Mathew Nolan, we have a few documents that list the brothers.  Both Naturalization papers list each other.  Passenger ship logs and baptismal certificates also have both.  In looking in to James S. Nolan son of, Matthew and Mary Nolan, that left Pennsylvania in the 1870's and moved to Minnesota to work on the Patrick Nolan, we found one puzzle to the story.   Patrick Nolan established a farm in the Oakwood Township in southern Minnesota in the late 1850's.  In an 1885 map of the Oakwood Township farms, listed is Patrick Nolan's 280 acres.  Next door to Patrick Nolan's farm was listed James Nolan 240 acres.  Patrick had a son James W. Nolan that eventually took over the Patrick Nolan farm at his death.  The farm next door was not the James son of Patrick Nolan.  The 240 acre farm was a different James Nolan all together (See Research Page 2 for the map of Oakwood Township in the 1880's).   Further evidence, in the 1880 census it lists the following:

 James Nolan, Self, Male, 32, born: Ireland, Farmer, Father: Ireland, Mother: Ireland 
Mary Nolan, Wife, Female, 23, born: Illinois, Keeping House, Father: Ireland, Mother: Ireland
James Nolan, Cousin, Male, 23, born: Pennsylvania, Farmer, Father: Ireland Mother: Ireland 

James Nolan, Cousin was James S. Nolan born 1857 in PA. to Matthew and Mary Nolan.  Later in the late 1880's James S. moved to Minneapolis and married Ellen Sexton from Wabasha.  He is listed on the Matthew Nolan page.  The other James Nolan, farmer, was married to Mary Mulcahy.  They had an adopted son George (Bayliss) Nolan.  George Nolan married Viola McDonough and had two children John and Rita.  Rita Nolan is 85 years old and lives in St. Paul.  She says the Nolan family still owns the farm in Oakwood Township and rents the land to a local farmer.  Interesting information from her was that her grandfather James Nolan not only was a farmer but a horse trader.  Interesting because, James S. Nolan open JS Nolan Livery Stables in Minneapolis and was a horse trader.   Rita Nolan doesn't have any other information on James Nolan and how he fits into the family descending from Mathew and Patrick Nolan.   From census and death records, the farmer James Nolan was born on March 1st, 1845 in Ireland.  He immigrated to America in 1867.  He died on January 18, 1919.  His Father was Matthew Nolan and Mother was Katherine Hayes.  The connection (cousin) of James Nolan and James S. Nolan is hard to solve with both Fathers named Matthew.  Another bit of information was that James Nolan's wife Mary Mulcahy had a sister Nellie that married a Thomas Shea.  The Shea name could be connected with James S. Nolan's Mother being Mary Shea.  Who is James Nolan, farmer, Oakwood Township?  How does he fit into the Nolan family tree? 

                               


      James Nolan with wife Mary below Left and Cousin James S. Nolan from the 1880 Census in Oakwood Township, Minnesota.
                                                                                   Patrick Nolan's entry is above left.   



UPDATE: 11/20/07
I received James Nolan's Certificate of Naturalization today.   Not a lot of information.  James Nolan became a citizen of the U.S. in 1889.  One interesting fact on the document was the two people that gave testimony that James Nolan was in the United States for at least 5 years.  One was Thomas Cunningham (?).  The other was James Nolan.   I presume that the James Nolan that gave testimony was Patrick Nolan's son.  Patrick's son James, lived next to the James Nolan farm and was 32 years old at the time.  He ran the farm after Patrick's death in 1883.    

Topic:John Nolan St. Mary's Cemetery, Minneapolis
On a recent trip to Minneapolis, I visited the St. Mary's Cemetery.   I found the family plots of  2 -- James S. Nolan and 3 --- Matthew Nolan (Matthew Nolan Tree).   James S. Nolan's brother John Nolan and his wife Anna are buried there.  I couldn't find their graves.  It is listed in sw lot 4 block 33 sec 2.  Has anyone ever seen their family plot? 
Topic:Matthew Nolan, relatives
In Matthew Nolan's death notice on the Matthew Nolan page, It writes "many relatives from Philadelphia were present at the funeral".   I looked into Philadelphia Nolan's.  To pinpoint a Nolan family branch that might be related is almost impossible without more information.  Was Francis/Anna Nolan family living in Philadelphia?   I think the Ireland question must be answered first before we find the needles in the hay stacks.       

Topic:Patrick Nolan's Children
There are several children of Patrick and Ellen Nolan we don't have much information on. 
-Mary Francis Nolan, married Edward Hyde
-Joseph Nolan, married Kate_______
-Ellen Nolan, married, John McClernning
-Patrick Nolan Jr., married Marie McNulty
-Catherine Nolan, Dennis Cavanaugh
-Josephine Nolan, she died at age 10 years old.  Any information on how she died?

Topic:Matthew Nolan's Children
There are several children of Matthew and Ellen Nolan that we don't have much information on.
-Ann Nolan, I believe she might be a daughter that had special needs.  On the census reports it stated that she could not write. She never was listed in any of the census as having worked.  There is a listing in the 1900 census for an Ann Nolan in the next county that matches her age and birth state of Pennsylvania and parents born in Ireland.  She is listed at the Pennsylvania State Hospital for the Insane in Mountour County (Mahoning).  I called the hospital archives dept..  They have no record of a Ann Nolan even after she was listed on the 1900 census report as having been there.  
-Ellen Nolan, we have no information on her.  I looked at Schuylkill Marriages and nothing matched up.
-Elizabeth Nolan,  I talked to Father Hall many years ago.  He said that Elizabeth Nolan was daughter of Matthew and Mary Nolan died in 1959 and buried in the parish cemetery.  There is a Elizabeth head stone next to Anna Nolan.  I wrote a request for death record on both.  The state didn't find any record of Elizabeth or Anna with the date of death on the head stones.

Topic: Mother St. Augustine (Catherine Nolan) and Sister St. Mary Estelle (Mary Nolan)
Both daughters of Mathew and Mary Nolan were sisters in the Sisters of St. Joseph Convent.  The sisters are buries St. Joseph's Cemetery in Chestnut Hills, Pennsylvania.  Can anyone traveling to or through the Philadelphia area get a photo of their markers for the website?

UPDATE 4/6/09:  I found a few photos of the Nuns Cemetery on the web.  The Chestnut Hills College went through an extensive addition and part of the cemetery was moved.  This photo was during the construction.  Talking with Sister Patricia from the Sisters of St. Joseph's said the cemetery is now open after their dedication ceremony.

                                                        


Topic: 2nd Lieutenant Patrick Nolan, Co-Pilot B-17 World War II 
Patrick Nolan, was the co-pilot of the B-17 photographed on the Helpful Links page.  Patrick flew ten missions before his death on a mission to Germany on December 30th, 1944.  His brother John Nolan was my father.  My dad kept a photo of Pat on his dresser as long as I can remember.  After my father past away, I came across papers on Patrick's military career.  In researching the information I learned that his unit had a museum in Tucson Arizona.  I live in Phoenix.  My family and I traveled to the museum and donated the photo of the crew and their B-17 to the museum.  Below is a link to the museum.  If ever in Tucson, the Pima Air Museum is a must.   www.390th.org   &  http://www.framlingham.co.uk/390th_bomb_group_memorial_air_mu.htm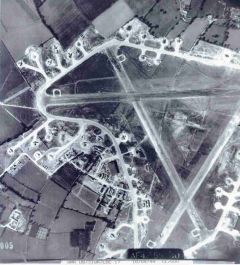 1944 390th Bomber Group Base                                                             The 390th Base Today
                                  Framlingham, England                                                                        Framlingham, England